Thanks to my friend N, I have become some sort of a sushi snob. Here's my picks for most authentic Japanese/sushi restaurants in the area. A guide for newbies to the area!
Sushi
Blue Fin
- Good for the price. Can get sushi for between $1-$2 per piece. $
Oga Natick
- My vote for most authentic / traditional. Get the sashimi specials. (Natick) $$
Oiishi
-
Oiishi's Chestnut Hill
location used to be the place to go! But now there's all these other new places. Not the traditional style sushi with very very generous slices of fish. $$
O Ya
- Most expensive. Modern take on sushi. $$$
Toraya
- A bit further out in Arlington. Smaller shop with more traditional styled sushi. Simple but extremely fresh! $$ (Thanks for the tip Albert!)
Uni
- Omakase / tasting menu type place. $$$

Japanese
Japonaise Bakery
- Try the Azuki Buns! Heavenly! $
Ken's Ramen
- Best ramen! $
Shiki
- Small plates (izakaya) in Brookline. $$
Also be sure to check out the all Japanese food court at
Porter Exchange
.
Not really my style but if you want to gorge yourself on sushi, try
Minado's
sushi buffet in Natick. As with most buffet places, quality is not the priority here but at least it's fresh.
I hope this list comes in handy because there is nothing worst than going to a sushi restaurant, paying a good amount of money and getting bad or barely mediocre sushi. This has happened once too often and my goal is to help other people avoid bad spending choices as much as possible ;)
Let's finish off with a photo of sushi from Oga's! Featuring maine uni, yellow tail, and a white eel: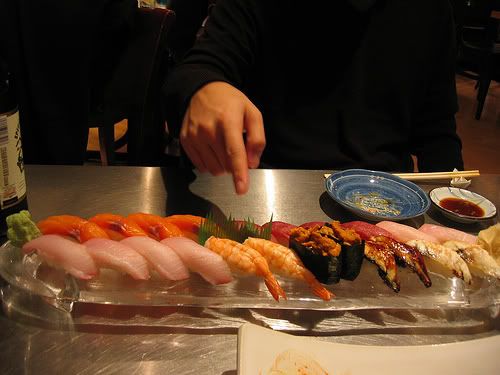 Let me know if I am missing anything!