We did dinner and a Stephen Chow movie last night. Picked up some sushi from Oiishi Sushi which is round the corner from us. The place was packed but not as crowded as before with only 2 parties waiting for a table. The restaurant is a hole in the wall place with maybe 15 seats at the most. Remember to write your name on the white board to get in line for a table.
The menu at Oiishi Chestnut Hill is different from the one in Boston. We tried to order things that don't have to be warm. We got yellow tail, uni, and oyster sushi, 2 hand rolls and a tokyo soft shell crab maki.
I loved the oyster sushi best. I haven't seen it at many sushi places here. It's garnished with a little tabasco sauce, and scallions. This was my favorite of the night! You have to try this.
Check out the oyster sushi!
The tokyo maki was good too. Radish is used to wrap the roll adding a nice crunchy texture: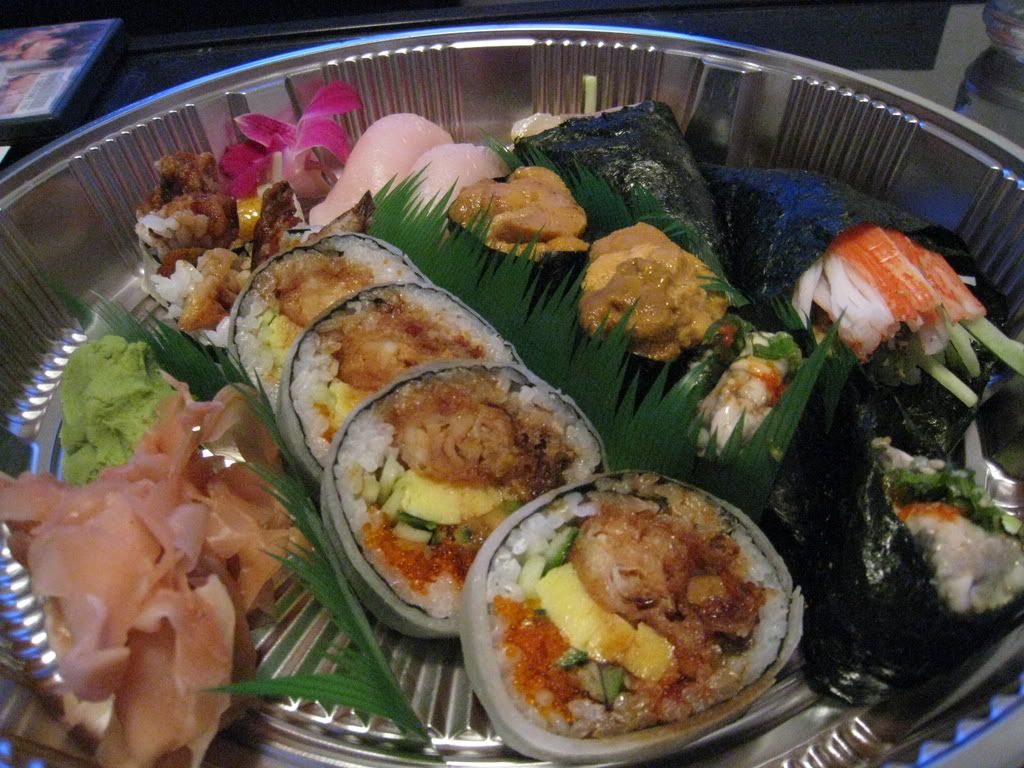 One disappointment was the Uni which was unfresh. My sushi pet peeve is bad uni grrr. Couldn't send it back since we were already home :P
Oiishi
612 Hammond St
Chestnut Hill
(617) 277-7888

Chomp Meter:
Oiishi's was one of those restaurants with a cult following a while ago. However with so many new entrants to the scene, this reputation may be hard to up keep. Personally, I'm not really inclined to wait for a table at Oiishi (Chestnut Hill location) these days. But if you haven't tried their torched makis or other specials I would recommend heading there. The food there is really GOOD, inventive rolls, and I wouldn't hesitate to get take out again. Have to add that this is more of a "maki" place than a "sushi" place.
(For sushi connoisseurs this is a non traditional place with larger slices and sauces etc. My Japanese friend didn't like it.)
PS: Don't go to the one in Sudbury. It's no where close to the Chestnut Hill one.
See my recommendations for the
Best Japanese / Sushi Restaurants in Boston
.