Sometimes I work up a craving writing about restaurants. Tee Hee! After completing my
Shiki review
from ages ago I had the irresistible urge to head there.
Saturday was the perfect day to plot my way to Shiki. Sunny with beautiful weather, we stopped by Paper Source in Coolidge Corner to buy a wedding card and then I suggested walking over for lunch :)
The main feature of the lunch menu is "Kaiseki". I believe this is the more casual form of
kaiseki
. Each set is named after a flower. There's the Cherry Blossom set (smallest at $12) all the way to the Camelia (largest at $18). It is rather confusing what the difference is between the sets and the staff don't explain it well. Never fear however, I have it deciphered. The staff don't really know the difference themselves, just order based on how much you want to eat. The hungrier you are, the larger the set! Elementary.
P got the Chrysanthemum set ($16). It included soup and salad, tempura, sashimi, chawan mushi, tataki, and an assortment of cooked items. I believe the sets include generally the same thing with larger sets having more of the same thing.
Chrysanthemum set (tempura not pictured):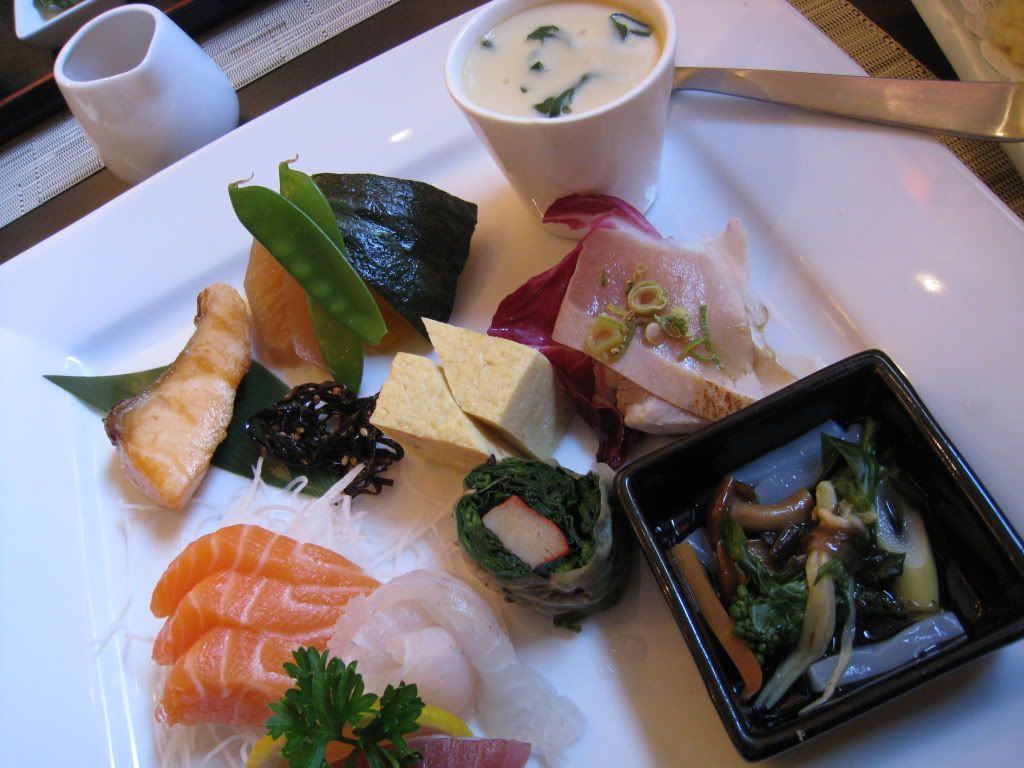 Rather than get a kaiseki, I got a Ika Natto (Squid and Natto) set which I loved. Much better than the Blue Fin version. Mmmm the gooey goodness! The raw quail egg makes the whole concoction creamier and richer.
I only stole a couple pieces from P's set. His verdict is that the set was decent though he suspects some of the items liked the broiled fish were left overs from yesterday's dinner :P

Chomp Meter:





IMO Dinner at Shiki is way better than lunch. More variety with more interesting dishes. Though if you're hungry and want to eat up a storm, lunch is pretty good value.
See my Shiki dinner review
.
Shiki Japanese Restaurant
9 Babcock St, Brookline 02446
At Harvard Ave
Phone: 617-738-0200