What you order really makes or breaks your dining experience at a restaurant. New Golden Gate certainly demonstrates this. We've been to New Golden Gate once before but weren't impressed with the food. I vaguely recall some roast chicken and sweet sour pork dishes (hey we didn't do the ordering).
We somehow ended up at New Golden Gate again on another friend's recommendation (a Chinatown insider!). Well actually we didn't realize it was the same restaurant till we were outside.
The restaurant has several tanks of shrimp and fish in the back and I even spied a scary Harry Potteresque serpent in one of them! OK I'm exaggerating and it was an eel not a serpent ... still scary though. Anyway we concluded that seafood is the way to go here.
We started off with a
Geoduck
. It was served in 2 dishes, one in sashimi form (known as mirugai in Japanese) and the other in soup form. I loved the sashimi. While it wasn't beautifully presented or cut, it was fresh sweet and crunchy. YUMMERS!
The other dishes we ordered were clams in black bean sauce, a beef and green bean dish (weird) and some garlic bok choy stir fry. The guys in the group liked the beef which they said was cooked on the outside but still tender and a little rare on the inside. I wasn't a big fan mostly because of the size of the beef chunks. A knife would have been helpful. Hey I thought Chinese food was supposed to be bite sized!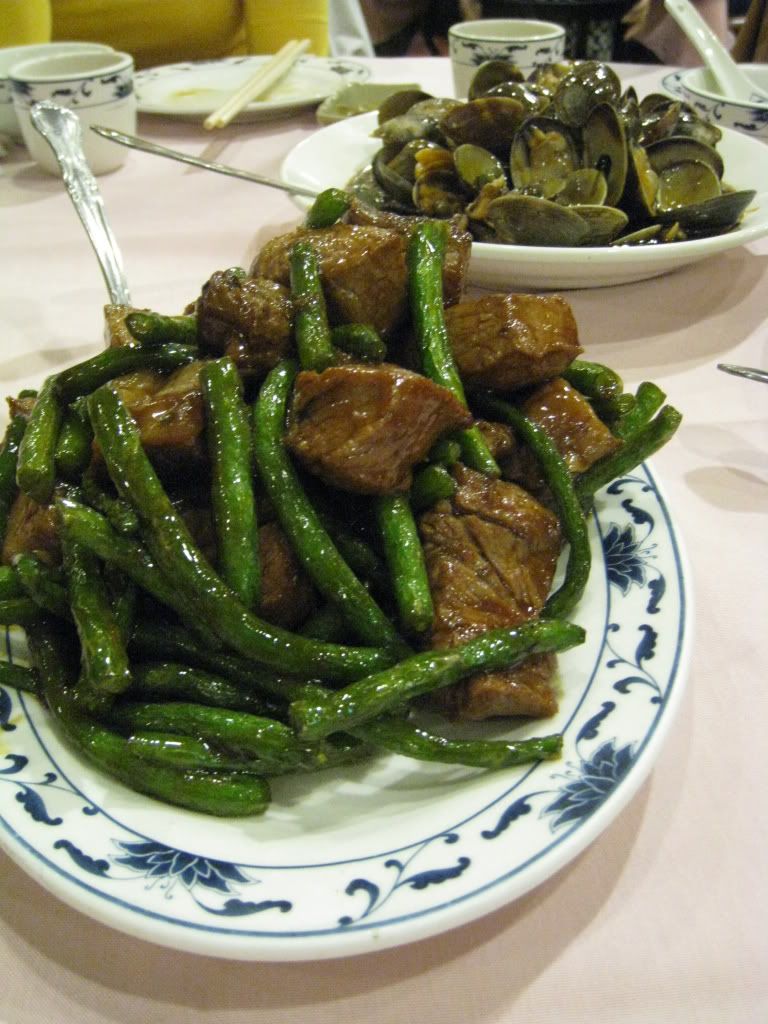 Chomp Meter:





3.5 Chomps. Overall a solidly good meal. A nice alternative to Peach Farm for seafood. I would love to try the shrimp on our next visit. They also have Chinese banquet style set menus (8 courses) that go up to $300! I wonder if anyone orders these? The restaurant seems to be quite popular and full of people (always a good sign) so go early if you don't want to wait.
New Golden Gate Restaurant
66 Beach St
(between Hudson St & Oxford St)
Boston, MA 02111
(617) 338-7721