Giacomo's is a well known spot frequented by tourists and locals alike. The line can get really long and the average wait time is 50 minutes!
We were in the vicinity a couple days back and found ourselves standing in line for a table. We were there at around 6'ish so the line wasn't too bad. It took us approximately 30 minutes to get a table.
Giacomo's is different from your average restaurant because the menu is on the wall. No paper menus. The menu is also fairly basic. You can choose from an assortment of seafood and linguine with your choice of sauce (pesto, fradiavalo which is a spicy red sauce, giacomo (cream sauce), red sauce, scampi).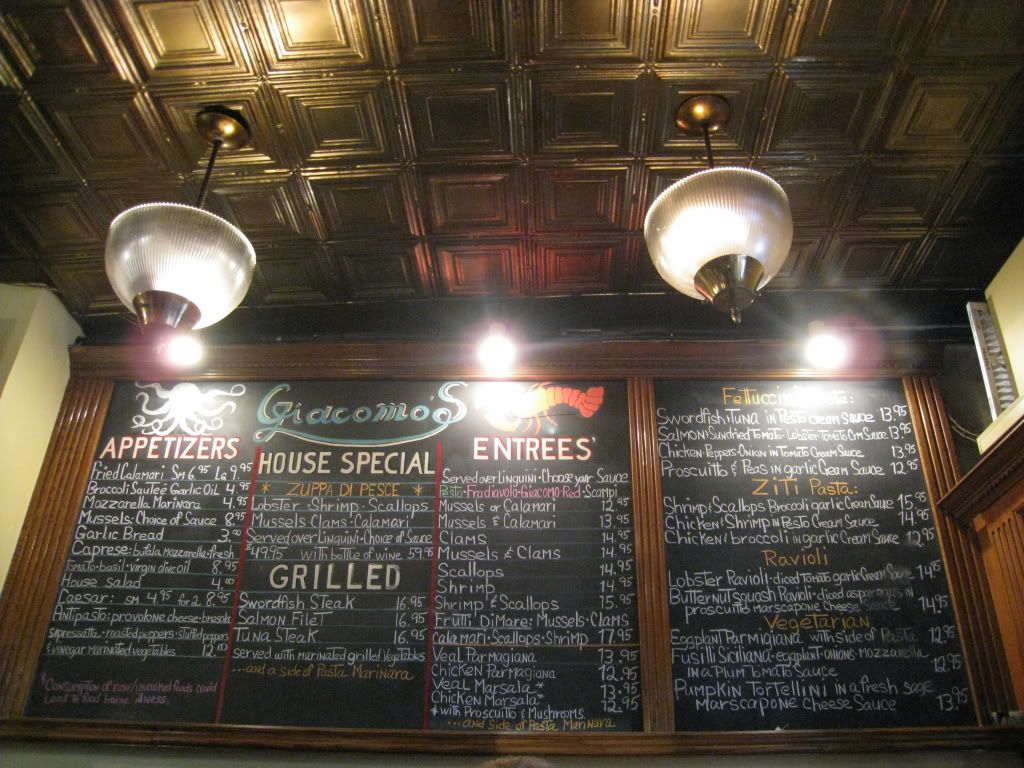 The staff at Giacomo's have the entire process down to a science. They might as well be working at Toyota (
kaizen
?! haha). As soon as your party is called, the table is all ready and set. Almost instantly, your server will welcome you and introduce the menu. The food is then served almost immediately. There are also quite a few bus boys for the size of the restaurant. They efficiently top up your water and remove your plate when you are done. No time wasted here!
We ordered the
fried calamari
,
linguine with clams
with scampi sauce (olive oil + garlic), and
lobster ravioli
. The fried calamari was very well done, right out of the fryer with some fried jalapeños as well.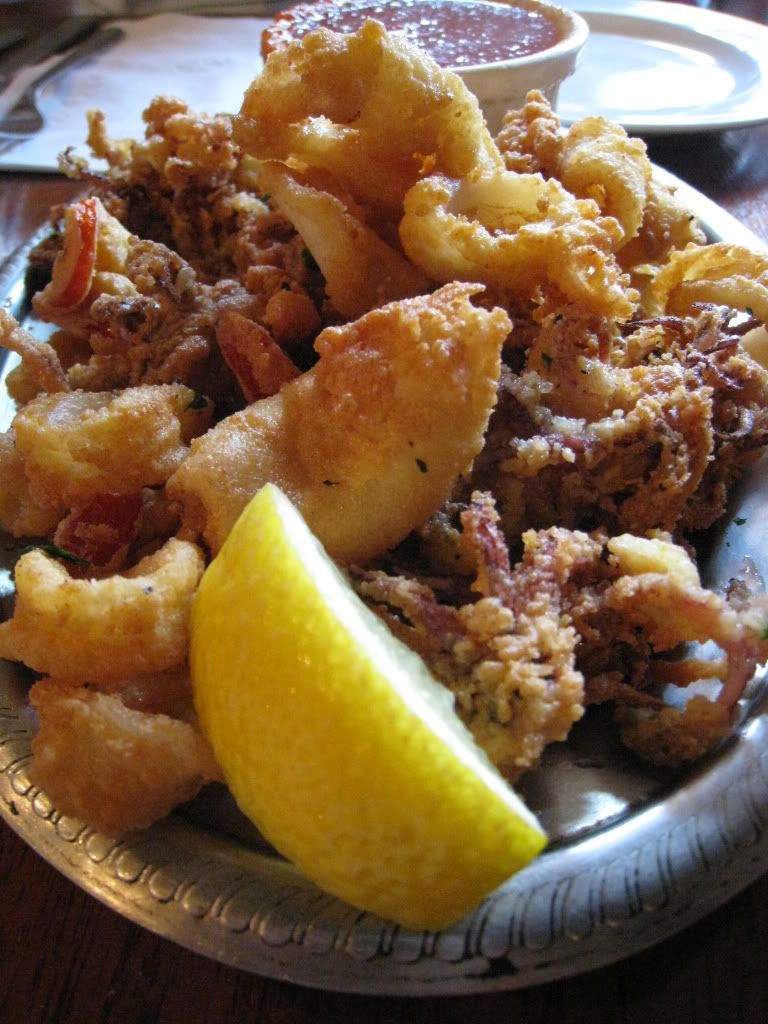 I liked my lobster ravioli. It was good though on the heavy side with the cream sauce and cheese filling. I could taste some chunks of lobster though not too much. Very reasonable for the price however ($14.95).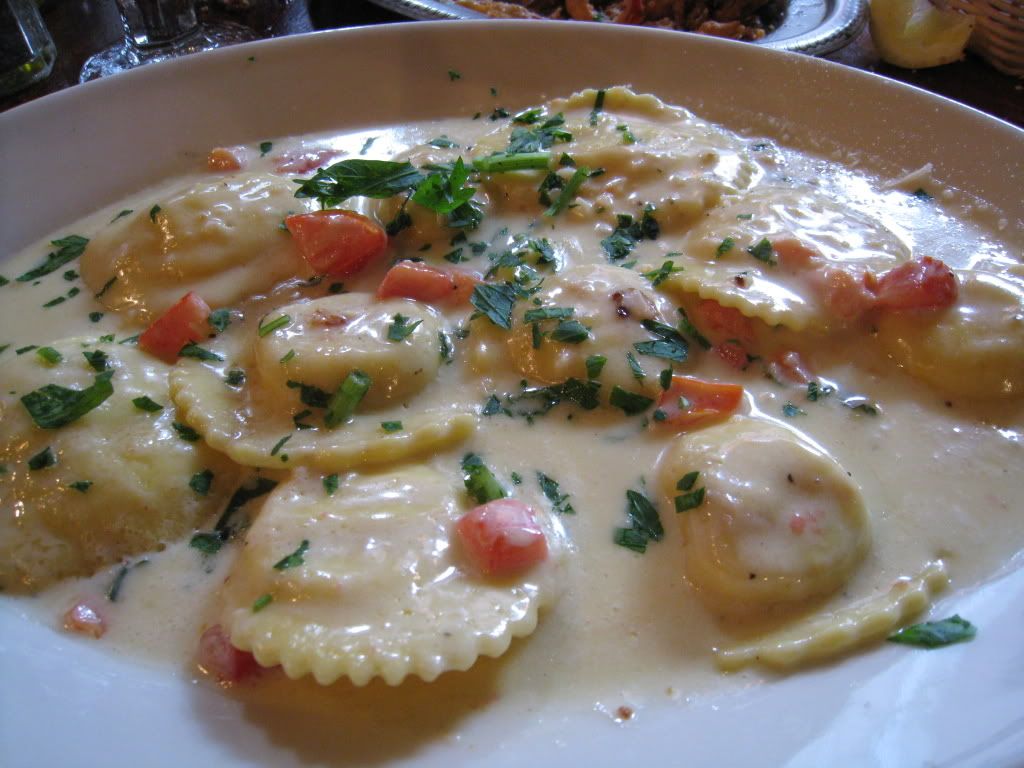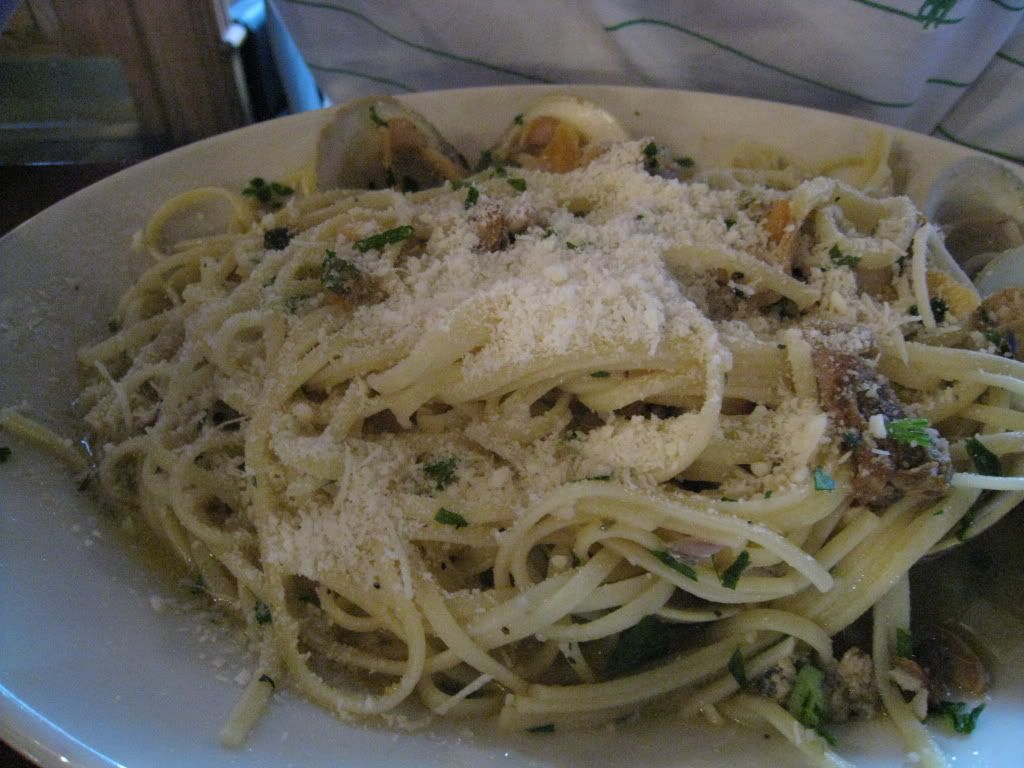 I also stole some from P. I really liked this dish. The linguine was perfectly al dente! The scampi sauce was also just the way I like it, olive oil, lots of garlic, and clam juice. Yum!
Chomp Meter
:





Giacomo is the place to go for
consistently good, very reasonably priced, hearty Italian food
. Probably the reason why it is so popular. They serve hundreds of people a day very efficiently. For me however there wasn't really that wow factor. I'm not sure it would be worth standing in line for long periods. Also, I'm not a fast eater so the pace was a little stressful for me!
Giacomo's Restaurant
(North End, Little Italy)
355 Hanover St
Boston, MA 02113-1910
Phone: (617) 523-9026
Giacomo's
(South End)
431 Columbus Ave
(between Braddock Park & Holyoke St)
Boston, MA 02116
Phone: (617) 536-5723