Where:
Singapore (Orchard Road)
Specialty:
Authentic, top quality sushi and sashimi
According to my friends G and V, Tatsuya Japanese Restaurant is THE place to go for authentic fresh sushi in Singapore. They'd promised to take me here when I was last in town but I ended up having to take a rain check. I made it a point to go this time round however!
We decided to do the sushi/sashimi omakase. Due to the size of our party, we had to sit at a table so the omakase experience was slightly watered down though still excellent. Also we didn't have any cooked food which I will have to try another time.
We started off with an appetizer of ikura. It was served with a sweet ponzu sauce (I think?) which enhanced the flavor of the roe.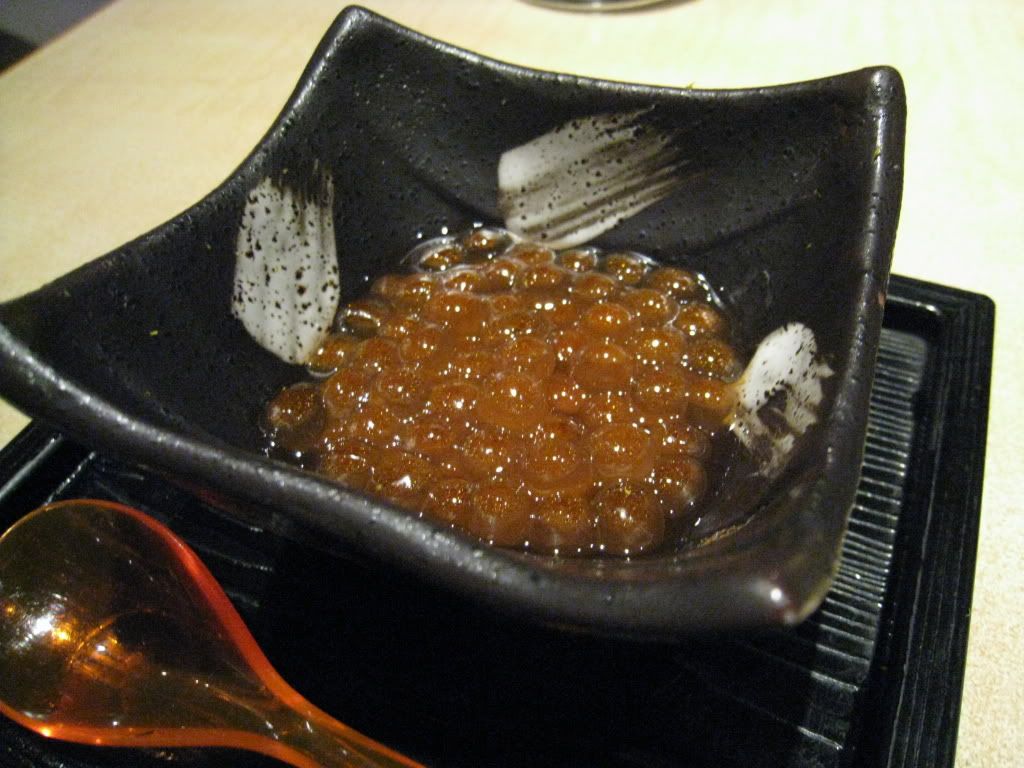 First out was the sashimi course. Beautifully presented and super fresh:
The second course was sushi, some of it seared. All excellent, though the most memorable for me was the seared shrimp. Partially raw and seared with a sweet teriyaki sauce, DELICIOUS.
Sushi Part I:
Next up was another sushi course. I was really quite full at this point but pushed on. Good sushi though nothing spectacular. The chef was prolly out of ideas by now hehe. One of the items was abalone which is a delicacy in these parts. It was good but I wasn't blown away.
Finally we finished off with a salmon skin handroll. It didn't look that appetizing but was actually really good! The pieces of salmon skin were fried perfectly and was a nice contrast to the roll.
Sushi Part II - Squarish one is the abalone (L) Hand roll (R)
The meal ended with some fruit. Persimmon and melon. I was very impressed with the persimmon (Hachiya so it is soft). It was perfectly ripe and the texture was wonderful. It totally melts in your mouth. A perfect ending ....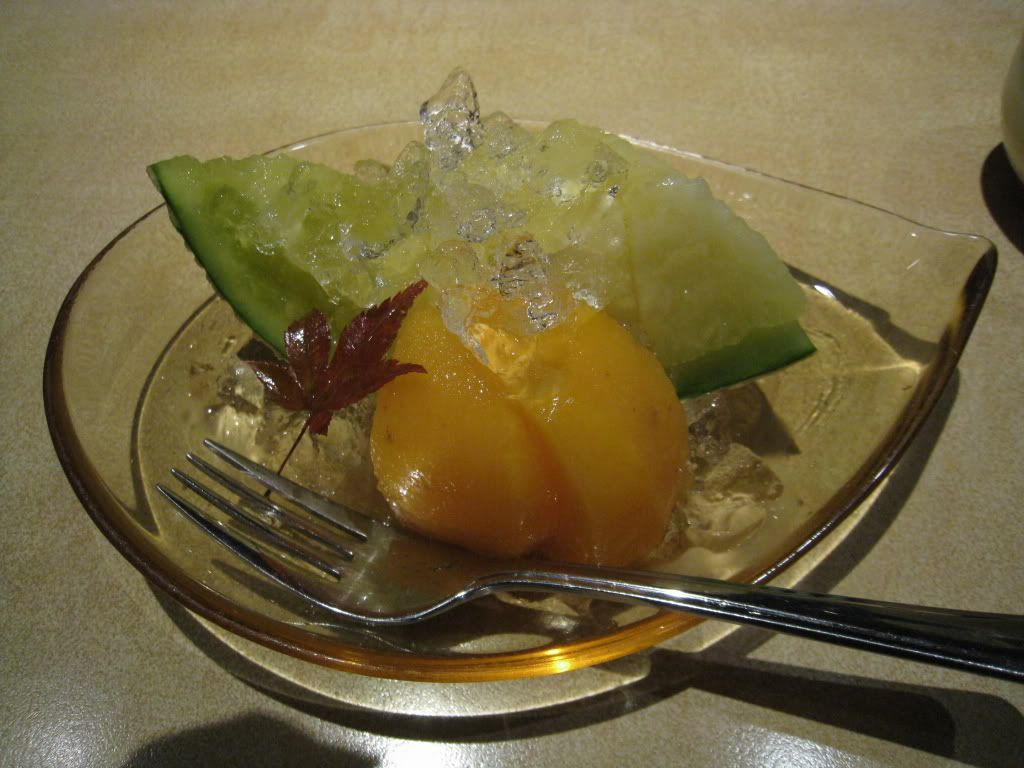 Chomp Meter:





This is a top notch sushi joint. The owner, Ronnie Chia, gets his produce directly from Japan in order to ensure quality and authenticity. The restaurant serves a balance of both traditional pieces as well as more creative ones. Tatsuya is also the only restaurant in Singapore that serves
Matsusaka beef
(step aside Wagyu!). Of course none of this comes cheap, our sushi omakase was SGD$250 per head. We felt it was worth every penny, well most of it anyway :)
A suggestion for Tatsuya's would be to have the wait staff introduce the dish before serving. It was a mystery at times trying to guess what we were served ...
And head to
Canele
for dessert!
Tatsuya Japanese Restaurant
(New Location)
22 Scotts Road (Goodwood Park Hotel)
Singapore 228221
Tel: 6737 1160
Park Hotel Location (Will close in December 2008)
270 Orchard Road
#01-05 Park Hotel Orchard